In the last week we have tested integration between Linkedin and HubSpot that you might like. It's called Leadjet. It works only with a Chrome extension.
You can add, create and enrich contacts in your CRM from a Linkedin profile, automatically create records for each prospect you want to save and synchronise conversation in messenger. Contacts that are saved in Linkedin will also be highlighted. You can try free for 14 days and then it cost around £13 per month with annual subscription. Try Leadjet.
LeadJet is great time saver and it works with Free HubSpot Subscription too.
By Synchronising data from Linkedin to HubSpot CRM you can organise well your sales activities.
About LeadJet
Leadjet is the n°1 tool you need to use on LinkedIn for your sales activities. It lets you connect your CRM (Salesforce, HubSpot, Pipedrive or Copper) to LinkedIn through a simple browser extension.
Create and enrich contacts, find qualified emails, and synchronize LinkedIn conversations - directly from your prospect's LinkedIn profile to your CRM in 1-click. You will save time on manual lead capturing and data entry. We found that with Leadjet, salespeople are 4x faster when sourcing and save a minimum of 1h of boring tasks per day.
Who might like to use Leadjet?
Business Owners with free HubSpot CRM
Business Networkers
Growth teams
Recruiters
Consultants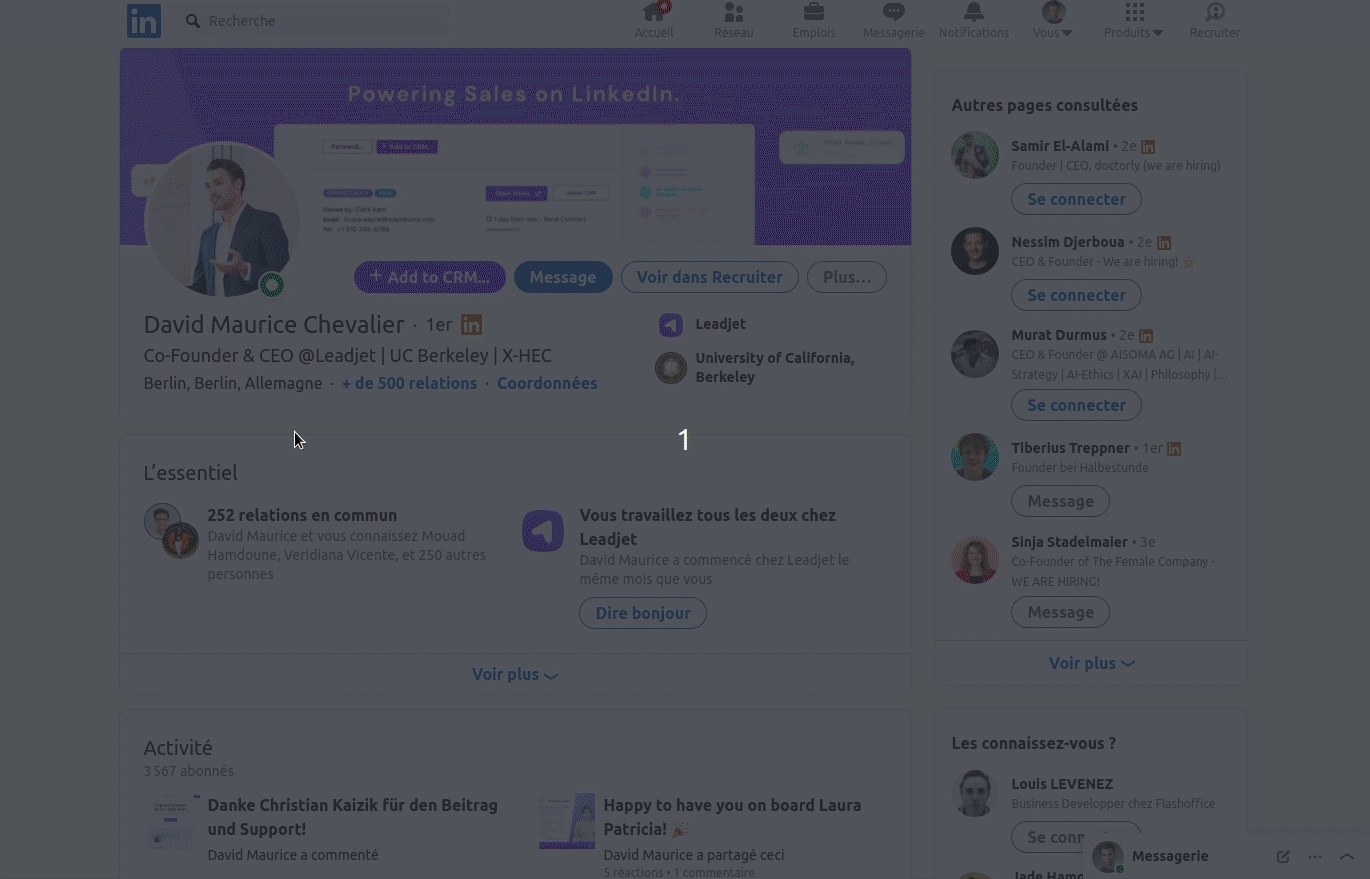 Features that we like
ONE-CLICK LEAD CAPTURING & FEEDING YOUR CRM:
Add, create and enrich contacts in your CRM from a LinkedIn profile. We automatically create records for each prospect you want to save (with main contact information enriched), serve up qualified email addresses and phone numbers so you can contact them directly, and lets you one-click upload their profiles into your CRM.
SMART TEMPLATES:
Save and reuse templates of messages you can insert in any conversation, with smart placeholders to reduce the number of keystrokes before closing your deal.
SYNCHRONIZATION OF MESSAGES:
Click at the bottom of the message panel and Leadjet automatically moves all your conversations into your CRM.
CUSTOMIZED CRM FIELDS:

Create custom fields to add more info to your prospect records and use them as smart place holders
DISPLAY CRM CONTACTS IN LINKEDIN:
You can automatically sync your contacts list from your CRM with Leadjet. We highlight names in purple in LinkedIn, to have a quick view who's already in your CRM and who's not.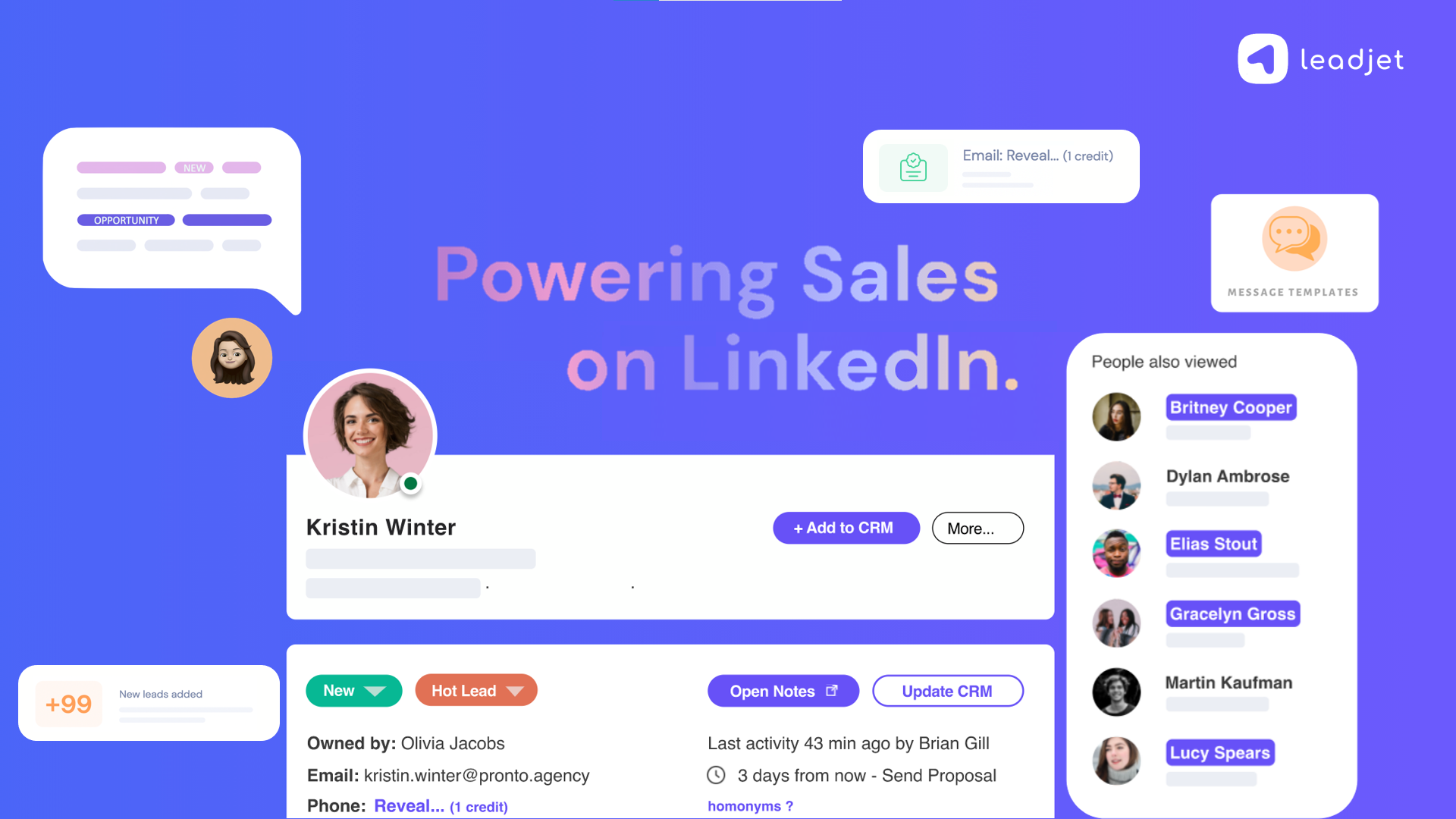 LEAVE NOTES AND LABELS ON THE PROFILE:
Leave notes and labels (e.g. status of lead) directly on the LinkedIn profile for follow-up actions.
CREATE DEALS:
In the CRM, "deals" are sales opportunities that are associated with contacts in your database. With Leadjet you can log new records directly as "deals" from LinkedIn (meaning you can directly trigger a new deal from the LinkedIn profile) and sync them to your CRM, while deals created in your CRM can sync back to LinkedIn.
CUSTOMIZATION:
Not really a feature, but you can customize Leadjet to your own needs. In your dashboard you can set preferences and create and match customized fields with your CRM. Or simply display any CRM field on the LinkedIn profile.
Pricing:
It cost about £13 a month with annual subscription, but you can use free for 2 weeks. Try LeadJet.